Directe Belichting - LSW SERIES - Hoog geconcentreerde ringbelichting
RINGLIGHT
Ring light is one of the most commonly used direct bright field industrial machine vision illumination.
In most cases, the ring light can be mounted at camera height or even with special brackets on the camera itself. The middle point of the ring light must be on the hard optical line of the lens. In the case of a large F.O.V. (Field of View), it is best to choose a ring light in which the LEDs are at an angle of 0 degrees to the camera. If the F.O.V. is smaller, it is better to use an exposure with a larger angle. A larger angle of illumination can also provide an object with more contrast. This is important when an object needs to be found accurately, for example when detecting Fiducials. The following should be taken into account: with a larger angle of the LEDs in relation to the camera, the working distance of the illumination becomes smaller.

Deze techniek wordt ook wel 'helderveld belichting' genoemd.
Enkele toepassingen van de LSW ringlichten:

- Inspecteren op aan- en afwezigheid van objecten, zoals bijvoorbeeld end of line inspectie van versnellingsbakken
- Lezen van labels met tekst, datamatrix – en barcodes
- Detecteren van positie optische referentie punten (Fiducial marker) bij PCB assemblage en print applicaties
De LSW ringlichten zijn verkrijgbaar in verschillende kleuren LED's : rood, blauw, groen, wit, UV en IR.
Om een uniformere licht verdeling te krijgen kan er een diffuser op de belichting worden gemonteerd. De diffusers zijn als optie apart te bestellen. Ook bieden wij polarizer's aan die op de ringlichten kunnen worden gemonteerd om ongewenste reflecties te voorkomen.
Productnummer opbouw
LSW-XX-YYY-A-B-C
LSW : Series
XX : Hoek van de LED's ten opzichte van optische as
YYY : Buitendiameter ring licht
A : Aantal rijen LED's
B : Kleur van de LED's
C : Voltage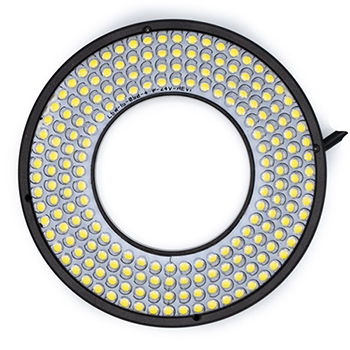 | Ringlight 40mm 24V | Size (mm) | Angle | Red | Green | Blue | White |
| --- | --- | --- | --- | --- | --- | --- |
| LSW-00-040-2-X | 40 | 0 | | | | |
| LSW-15-038-2-X | 40 | 15 | | | | |
| LSW-30-040-2-X | 40 | 30 | | | | |
| Ringlight 50mm 24V | Size (MM) | Angle | Red | Green | Blue | White |
| --- | --- | --- | --- | --- | --- | --- |
| LSW-00-050-2-X | 50 | 0 | | | | |
| LSW-15-050-2-X | 50 | 15 | | | | |
| LSW-30-050-2-X | 50 | 30 | | | | |
| LSW-45-050-2-X | 50 | 45 | | | | |
| Ringlight 70mm 24V | Size (MM) | Angle | Red | Green | Blue | White |
| --- | --- | --- | --- | --- | --- | --- |
| LSW-00-070-2-X | 70 | 0 | | | | |
| LSW-15-070-2-X | 70 | 15 | | | | |
| LSW-30-070-2-X | 70 | 30 | | | | |
| LSW-45-070-2-X | 70 | 45 | | | | |
| Ringlight 70mm 24V | Size (MM) | Angle | Red | Green | Blue | White |
| --- | --- | --- | --- | --- | --- | --- |
| LSW-00-070-3-X | 70 | 0 | | | | |
| LSW-15-070-3-X | 70 | 15 | | | | |
| LSW-30-070-3-X | 70 | 30 | | | | |
| LSW-45-070-3-X | 70 | 45 | | | | |
| Ringlight 50mm 12V | Size (MM) | Angle | Red | Green | Blue | White |
| --- | --- | --- | --- | --- | --- | --- |
| LSW-00-050-2-X-12V | 50 | 0 | | | | |
| LSW-15-050-2-X-12V | 50 | 15 | | | | |
| IR Ringlight | Size (MM) | Angle | IR |
| --- | --- | --- | --- |
| LSW-15-070-3-X-IR850 | 40 | 40 | |
| LSW-15-070-3-X-IR940 | 50 | 50 | |
| UV Ringlight | Size (MM) | Angle | UV |
| --- | --- | --- | --- |
| LSW-15-70-2-UV375 | 70 | 15 | |
| LSW-15-90-3-UV375 | 90 | 15 | |
| LSW-30-40-2-UV375 | 40 | 30 | |